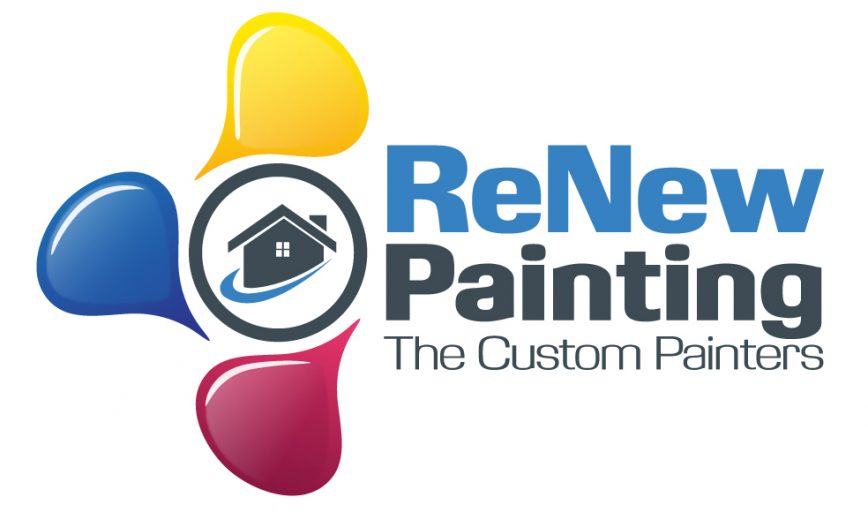 Welcome to our featured EDDM Client of the Week – ReNew Painting.
Central Florida's custom painting specialists ReNew Painting was looking to jazz up their direct mail campaign when they contacted ummhumm | creative studio. Already well established in the Kissimmee, FL region, ReNew Painting knew they had to update their current campaign to reach new customers moving into the area.
We accepted the challenge by creating an EDDM mailer that was 9 x 6.25, the most popular Every Door Direct Mail® postcard available. The initial effort focused on home interior improvement and a themed room. It also was geared toward the proximity to the Disney crowd, which was a mere 22 miles away.
ReNew Painting's response generated several more EDDM mailers. We continued our focus on Disney and designed the next mailer around the animated motion picture "Frozen". The next mailer was a New Year's Special that was following by exterior home renewal.
Should you need any interior or exterior professional painting, give ReNew Painting a call.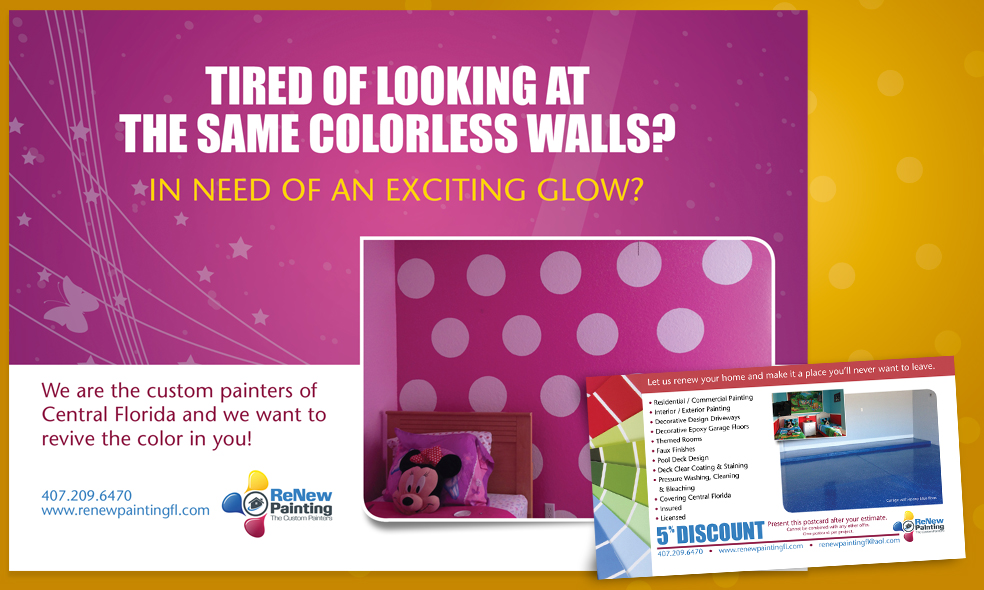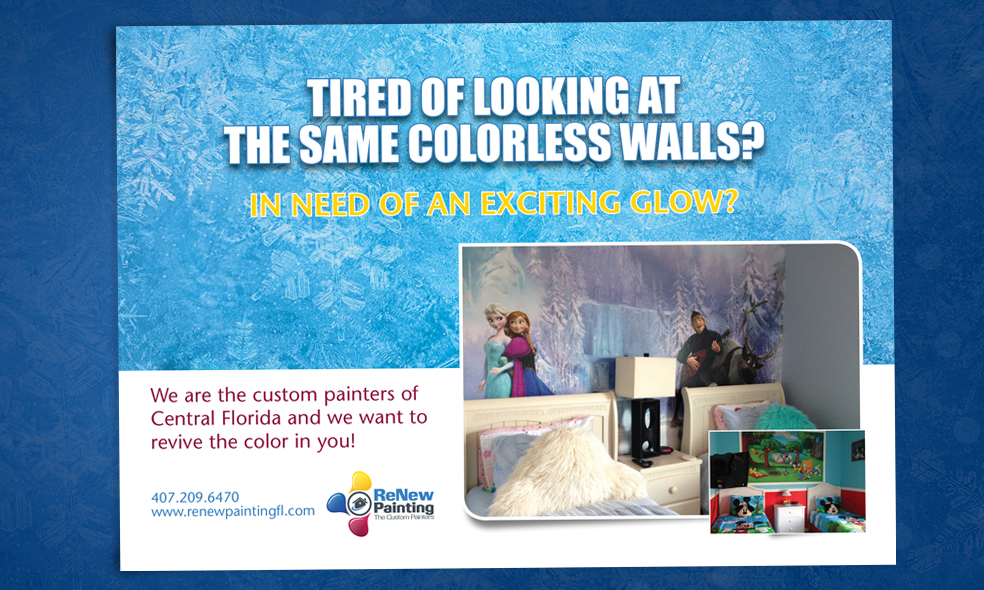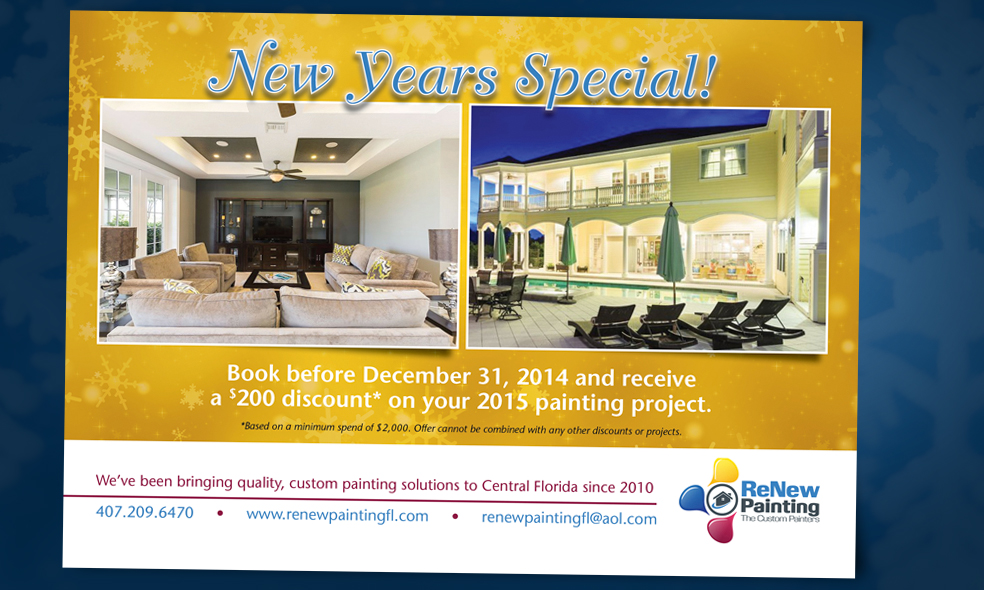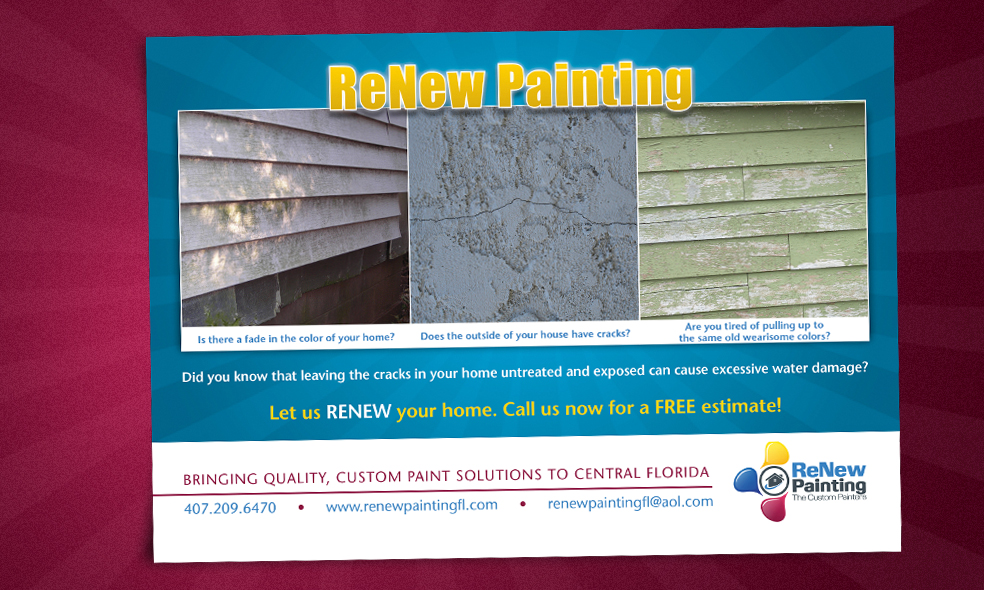 ReNew Painting provides you with years of experience. Our goal is to provide excellent work while finishing every project in a timely and professional manner. We work with vacation homes, property managers, investors, and homeowners.
ReNew Painting was founded by Joseph Iturria and works closely with a handful of partners that insure every job is done right. We are licensed and insured.
ReNew Painting Inc is a licensed and insured company. We guarantee a professional job every time, and promise great results. We handle everything from prep to clean up and we never leave a mess or unfinished work. You can count on us to complete your project to your 100% satisfaction, and leave your job site exactly as you would expect.
SERVICES
– Residential and Commercial Painting
– Decorative Floor Coatings & Sealants
– Clear Coating and Staining for Decks
– Faux Finishes
– Driveway and Pool Deck design
– Power Washing, Cleaning and Bleaching
– Themed Rooms